Haing just read this month's issue of Company, I'm feeling inspired by Jessie J right now. She is a singing sensation, judge on The Voice, an incredible songwriter and most importantly, a complete fashionista. Jessie has been styling herself on The Voice, as well as putting together killer off-duty looks, and while her style isn't to everyone's taste I am loving it. Since day one she has been delightfully quirky, super-fierce and has refused to blend in. Her signature bob may be getting left behind, and she may be wishing to tone it down, but there is no way she will stop using her clothes to express her larger-than-life personality. Since I am a strong believer in using clothes as a form of self-expression, to be whoever you want to be, I am a massive fan of her looks.
This is Jessie on the cover of this month's Company, and I love every part of it. The gorgeous printed top and party shorts suit her perfectly, and those boots are giving me serious shoe envy. I also adore her long, dip-dyed hair and basically think she looks gorgeous.
This shot is my favourite from the Company photoshoot - it is so good to see Jessie working the SS'12 pastels trend, and dipping into the Americana look as well with this bralet and high waisted shorts. To me, this outfit perfection.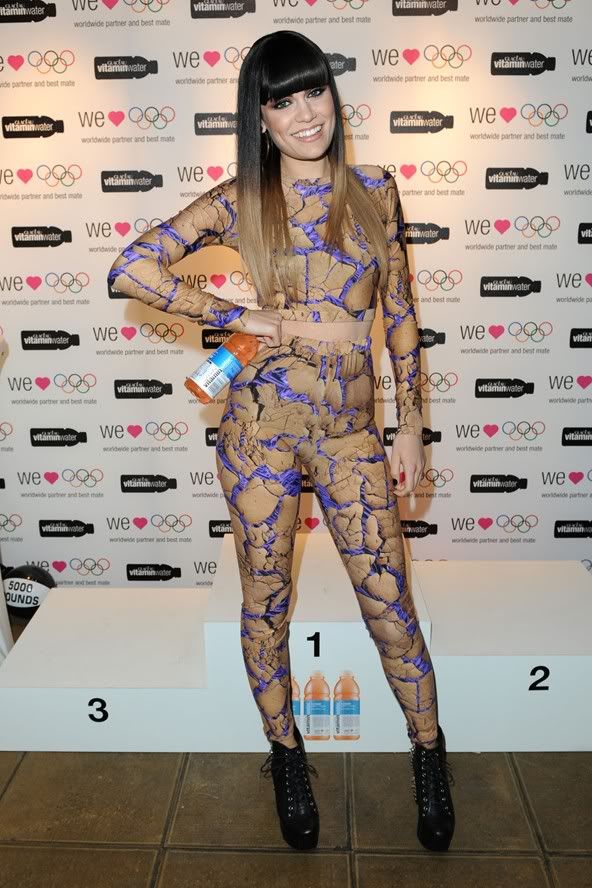 Here she is in one of her typical on-duty looks, aka something so skin-tight and spray-on we mere mortals would be terrified of leaving the house in it. But through some miracle or a form of witchcraft, she pulls it off spectacularly, looking gorgeous as per usual. I think it might be to do with her quirky dip-dye, gorgeous smile and some bold self confidence. My favourite thing about this look is that she is bang on trend baring her midriff.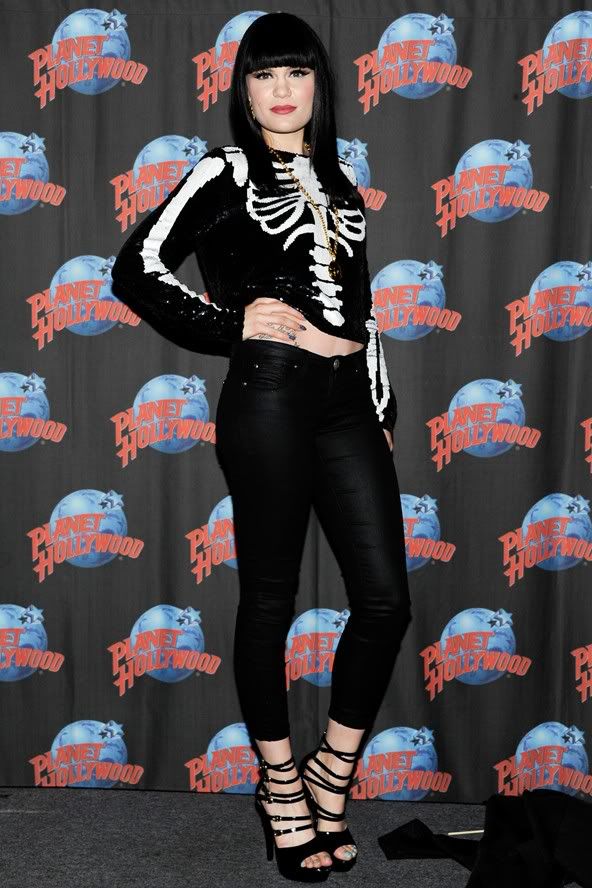 Stepping back in time a little to an outfit I adore, and showing that head-to-toe black is far from boring, Jessie works another look that effortlessly mixes glam and quirky. This sequin skeleton print top makes her stand out from the crowd, and I really want it!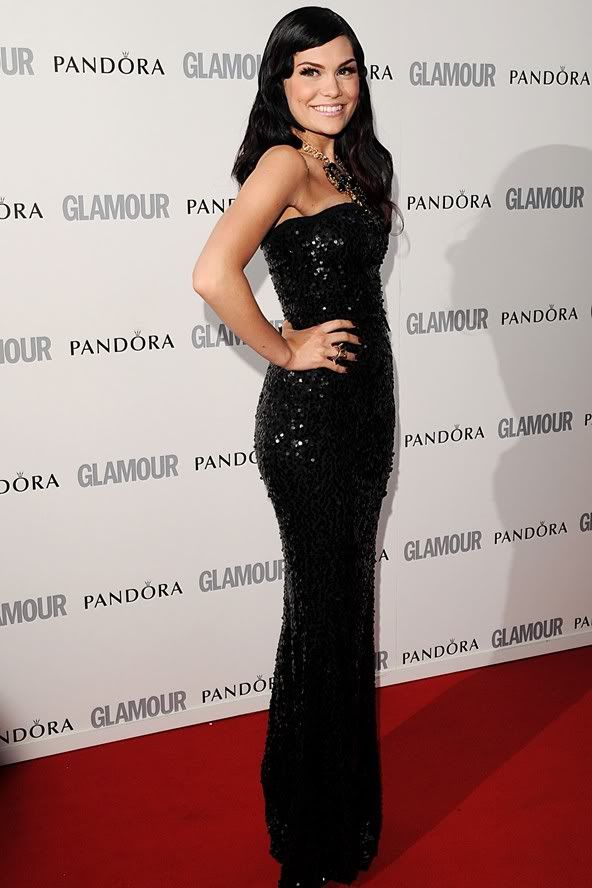 Of course, because she likes to keep her fashion critics on her toes, every so often she pulls out a look that is pure, unadulterated glamour, like this one which absolutely oozes Hollywood glam. I love how versatile she can be, and the different hairstyle really suits her.
Back to her quirky best, Jessie works some statement hotpants by BOY London with a statement belt, and leaves the rest of the outfit simple and carbon black. I love her unusual bright purple dip-dye, which is very du jour.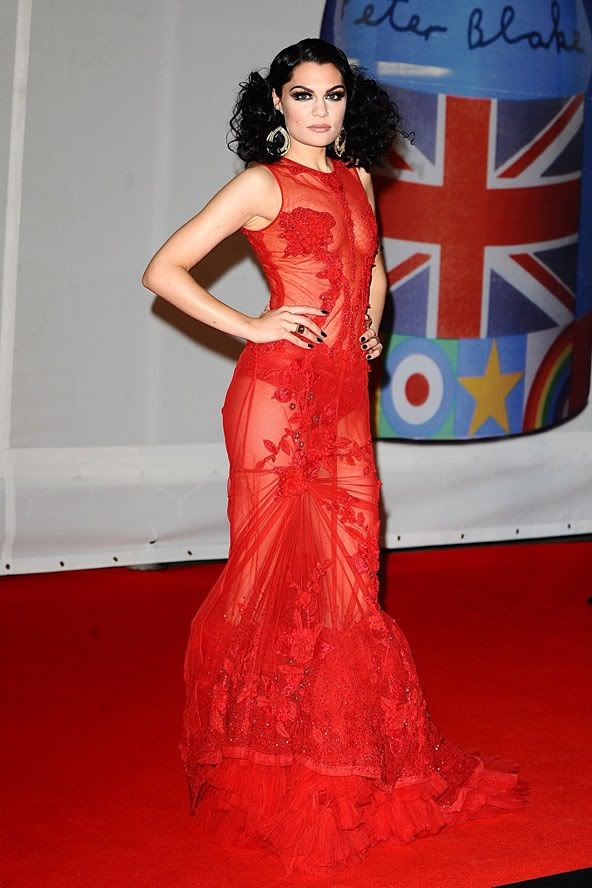 I think this stunning red dress shows just how brave Jessie J is - a sheer dress like this one needs an immense amount of courage to wear, and she is working it. I also love her super-fierce makeup and bold hair.
And here comes the glamour again. She is a complete screen siren in this mirrored silver dress that showcases her enviable curves. I love her simple ponytail because it lets her dress do all the talking, and shows off her bold smokey eye makeup.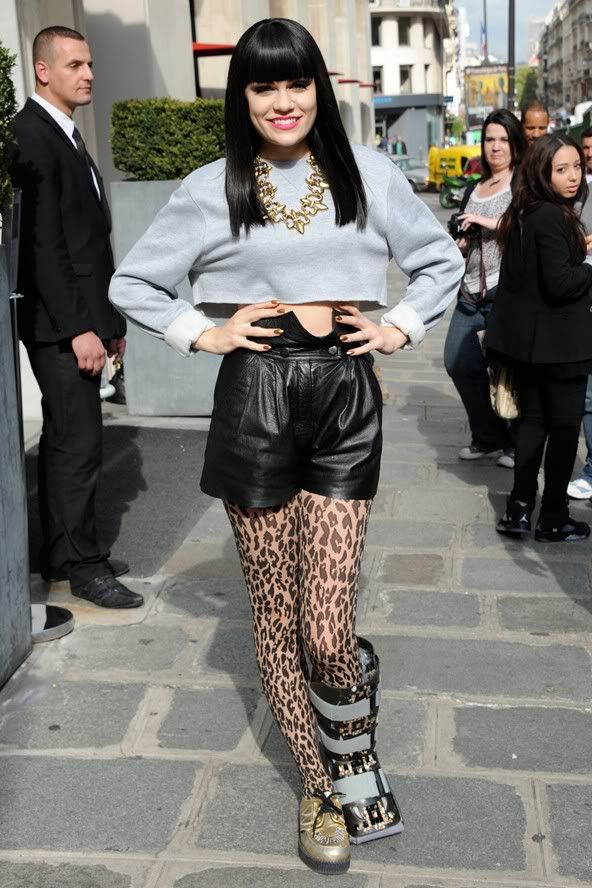 Even off-duty and in a leg cast, Jessie is a complee style icon. Those leopard print tights are gorgeous and unique, and rev up her simple black leather shorts and grey top perfectly along with the creeper and statement necklace.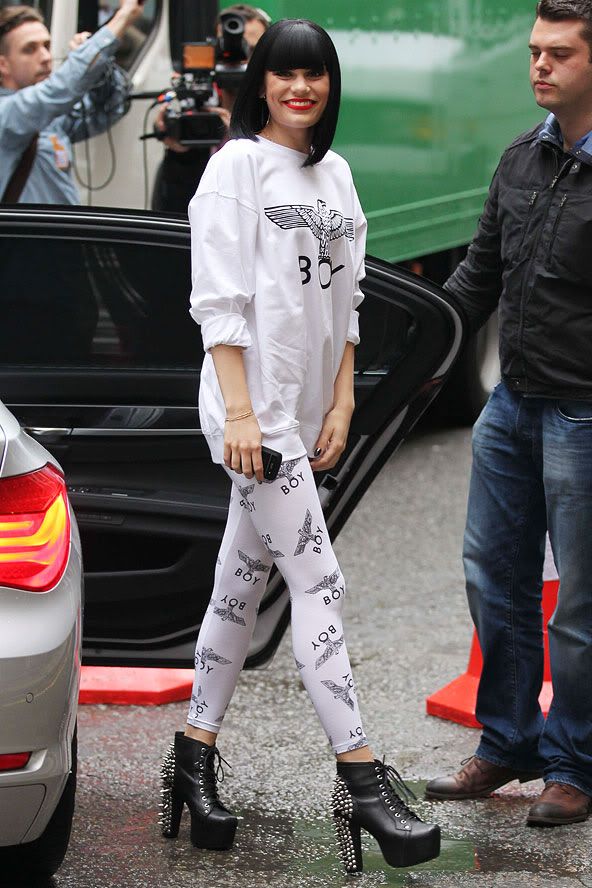 Again showing her love of BOY London, Jessie works a sweatshirt and leggings by the label. I love how she has turned a stay-at-home outfit into the perfect daytime look by adding some fierce studded ankle boots and a bright lip.
I think it is Jessie's versatility that really makes me love her style. From the sweetly pastelled look in Company this month to quirky catsuits to retro glamour, she can pull off pretty much anything on any given day. Her collection of fierce accessories is enviable, and the best of those accessories is her hair. Her sharp bob sky-rocketed her to hair icon status, and she has kept it up by dabbling in coloured dip-dyes, a variety of 'dos and is currently working a gorgeous black to light brown dip-dye (similar to mine, no?), and they have all suited her down to the ground. So what do you all think of Jessie's style?
Love and kisses, Tara xox