Oh sunshine, how I love you. I have been waiting for months and months for it to finally feel like summer, and now, at the end of May, we appear to have made it. Lots of people I know are already complaining about the humidity, or it being too hot to concentrate - have they forgotten just how dismal winter was? I certainly haven't, and I am loving this weather. It often seems like I was born in the wrong country since my natural preference is for 30+ degrees, blazing sunshine and so much heat that you need a drink every five minutes. I will never be glad of rain or cloud the way I adore a blue sky. So naturally, this burst of gorgeousness that is the weather is right up my street, and yes, I have been sitting out in the sun with ice lollies as often as possible, as well as relishing the chance to venture out without some form of jacket.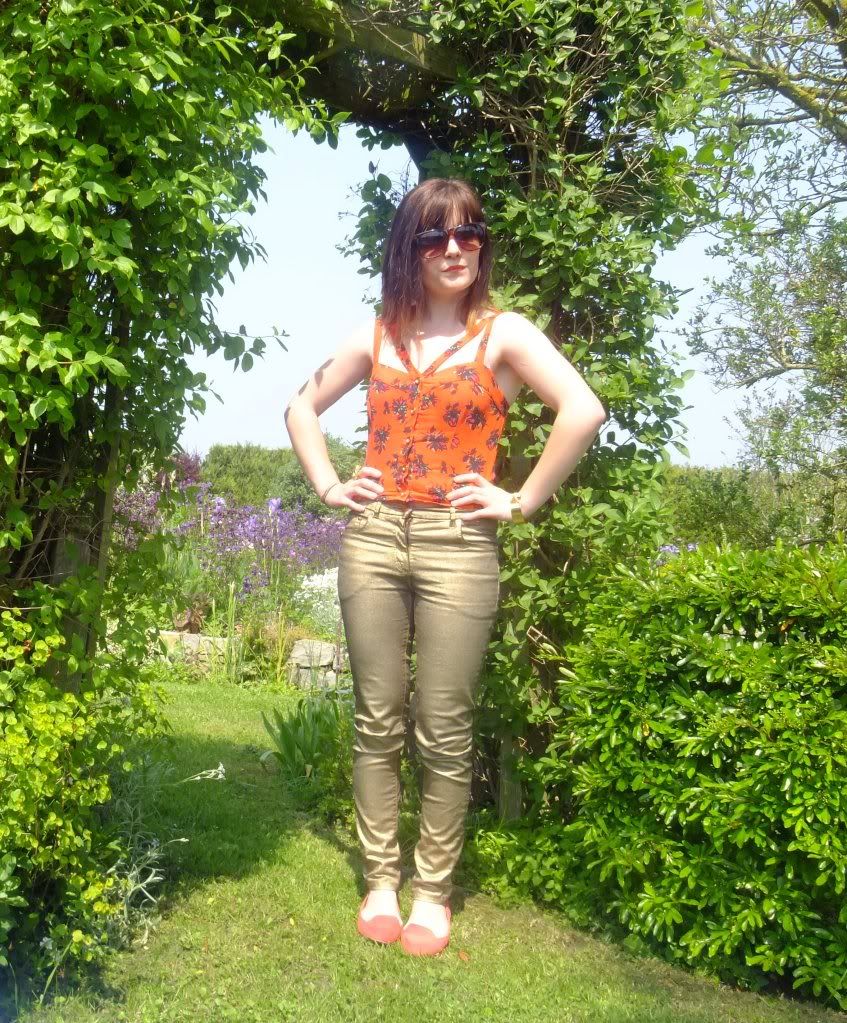 Top & Earrings - Topshop; Jeans, Sunglasses & Cuff - H&M; Shoes - New Look; Ring - Miss Selfridge.
First of all, sorry for the terrible washed-out photo - there's the one downside of bright sunshine. Trying to balance the camera on a trampoline probably didn't help either. Right here I am relishing the joy of being able to wear just a top, but again I didn't quite get whole-heartedly into summer clothes, since my treasured gold jeans were the perfect match. Metallics are still hot right now, and I gave them a bit of a summer update with a floral, 1950s style top. And the sunglasses were a necessity, especially when driving!
Who else is enjoying the sunshine right now?
Love and kisses, Tara xox