Finally, the moment I have been waiting for. A Saturday morning where both an absence of work and gorgeous sunshine have collided, and this can mean only one thing - shopping! Yes, I know, I spend way too much money, but honestly even if I don't spend very much I love being in shops, looking at all the new pieces and trying on things I can't quite let myself buy. Shopping is one of the most pleasurable activities ever, and I actually think that Topshop is my natural habitat.
Top, Bag & Ring - Topshop; Skirt & Earrings - River Island; Shoes - New Look; Bracelet - Temporary Secretary; Necklace - Accessorize; Sunglasses - ASOS.
The summer sunshine today meant that I finally got to put together an outfit without a single hint of black - I stuck to confectionary colours for a bright, cute look. It's also very rare that I don't have print on at least one piece of clothing, but today I was going for something fresh and light. This may look like a simple outfit, but I am working in my SS'12 references - 1950s cat-eye shades & A-line skirt, shimmery metallic vest, candy-pastels bag. For once I also wore my hair up, on a complete whim, and I am surprised to find that a simple ponytail looks perfect with the amount of trends going on in this outfit.
This shopping trip I didn't actually buy too much - I just got sucked in by the gorgeously stylish and affordable dresses in New Look..
I adore this dress. For once it doesn't swamp my petite frame, thanks to the mullet hemline, and the print is completely gorgeous. It is perfect for summer with those oversized daisies, and the floaty fabric - I can't wait to wear it out in the bright sunshine!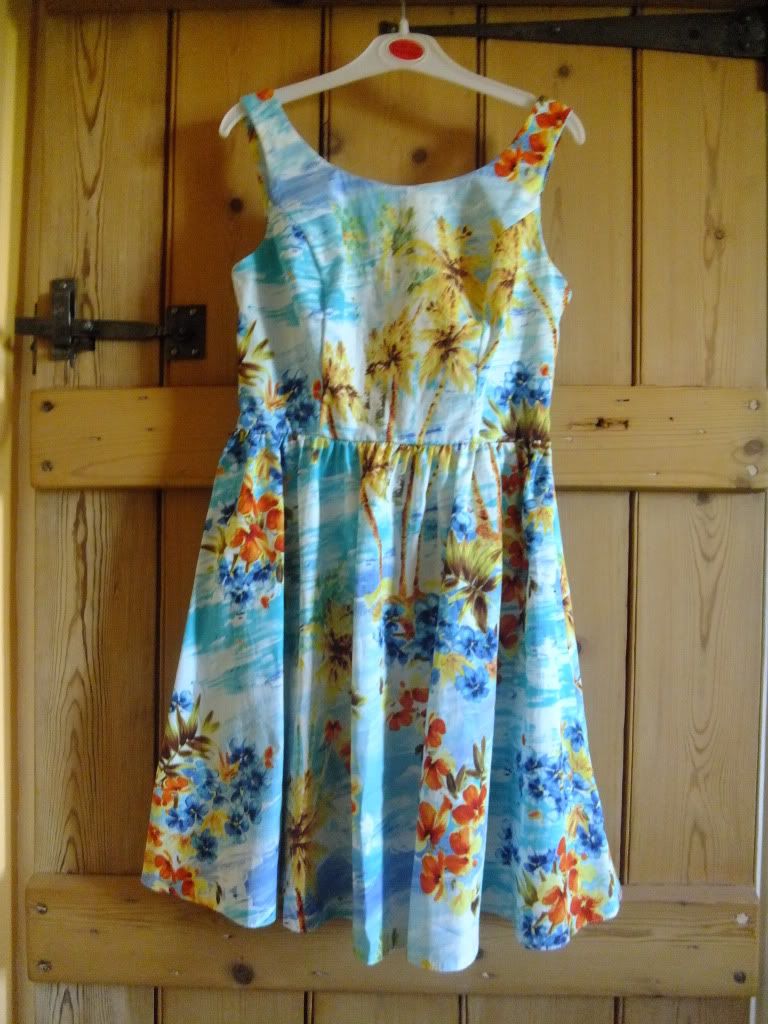 This next dress caught my eye because of the beautiful tropical print that just makes me dream of my summer holiday! It's so bright, and absolutely perfect for long, lazy summer days. But what really attracted me upon closer inspection was the retro shape. Indulging my 1950s dreams, I love the cut of this dress with the fit-and-flare shape, as well as the cute tie-up detail on the back.
Love and kisses, Tara xox