Salutations, fellow fans of the lovely Tara

and her obsessions du jour! Je m'appelle Lindsey and, frankly, I'mthrough the roof to have you beautiful people read my highly thought out and overanalyzed words! I have been given the esteemed honor of guest posting for one of my favorite blogosphere dwellers, at this gorgeous residence of a blog. She is also the featured guest blogger at my little fashion playground, Style Splice, so pop over and show her some love! Now, down to business. I proudly present MY obsession du jour; the printed pants trend.
​

Allow me to preface my trend review with

the following: I presently own upwards of 6 pairs of these trend-worthy leg parties, so I do not just dabble in the style niche. I could almost live in it for an entire week straight. So trust me when I say it is completely fashion idiot foolproof. What better excuse for getting away with wearing what are essentially glorified pajamas, in a fashion forward way, than obnoxious leg art? Well, let's ask Beyonce, who seems to be donning an ornate tapestry across her nether regions. Or perhaps fashion icon Whitney Port, who appears to have waded through a very tasteful jungle. Though their floral styles served as the inspiration for my trouser of choice, there is a literal abyss of pattern options, not to mention cut and fit, not limited to flowers or other assorted plant life. Demure polka dots, punk rock animal print (circa Paramore's Haley Williams), dizzying art deco geometric prints, all that look delicious paired with oversized chunky cable knits, vintage silk button-ups and blazers, or halfway tucked in men's t-shirts. Depending on the route you steer your look with a pair of these versatile trend monsters behind the wheel, motorcycle boots can be equally as visually appealing as a pristine pair of patent Mary Jane pumps to compliment them. I recommend thrifting to road test this trend so you can sample a few different styles without breaking the bank and be far more empowered to invest in flamboyant and ostentatious varieties without selling one or both kidneys and/or other vital organs.
Thank

you all so much for reading and I hope to review a plethora of trends for you in the future!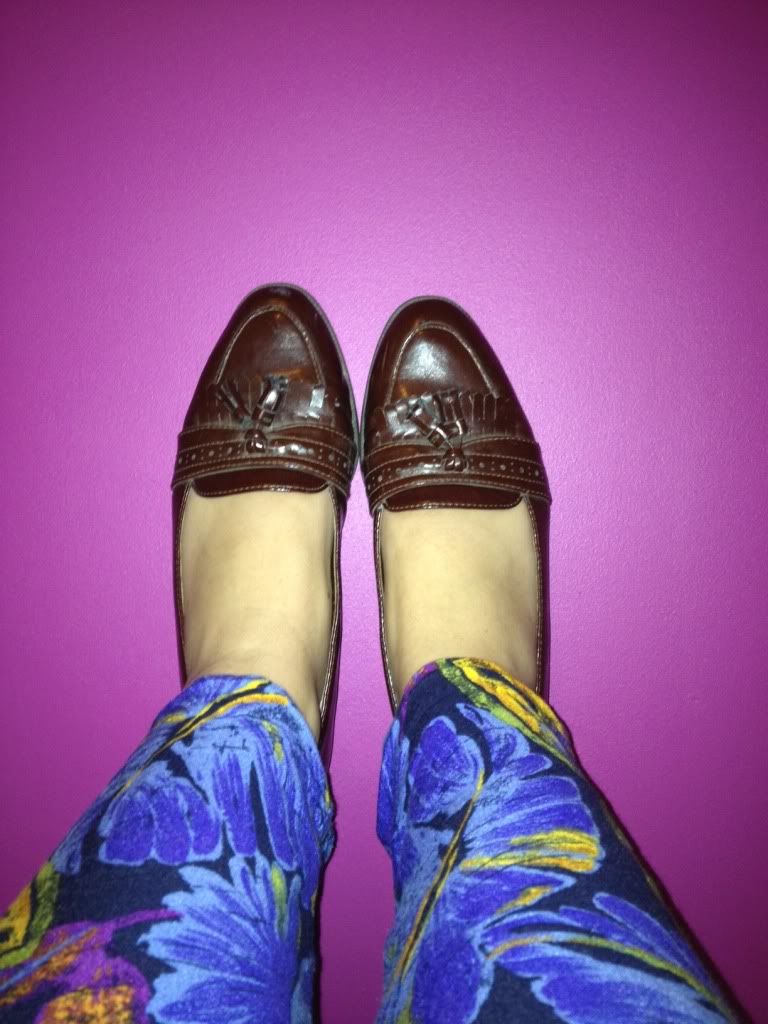 {Trousers - Goodwill, Cardigan - Goodwill, Top - Marshall's, Belt - UO, Loafers - Thrifted.}