While everyone goes crazy about the jubilee today I am currently sat at home flicking through magazines and blogs. Which means that instead of some crazy royalist post (well, I have already obsessed over the Queen's style..) you are going to be getting some inspiration from another of my style heroes. This girl does, oddly enough, have a suitably royal name considering she is Mollie King, but other than that and a bit of a link to Prince Harry, this is quite unrelated. I just happened to see one of her latest looks and was then reminded of all of her stylish appearances that have impressed me.
I am not a Saturdays fan in the slightest, but I have to admit they all scrub up pretty well and look irritatingly gorgeous in every appearance, and Mollie is in my opinion the most stylish of the five. Unusually for me, the looks I love the most are not her on-duty, red carpet ensembles, but her off-duty street style looks because she manages to make a stylish statement with every look, as well as being the epitome of easy-breezy daytime fashion. So for once, I won't be drooling over couture gowns that have no practical place in my wardrobe, but eyeballing some gorgeous daytime pieces that I could legitimately consider trying to buy.
Okay, you know me, I can't resist a few evening looks. This dress is pretty much perfect on Mollie - I love the lingerie-inspired lace and sleek midi-length, as well as the super-flattering silhouette.
This is such a cute, playful red carpet look. I love the 60s style shift dress with oversized polka dots, and simple styling she has employed, with a voluminous up-do, heavy eyeliner and black heels. The look ensures she stands out next to Vanessa too.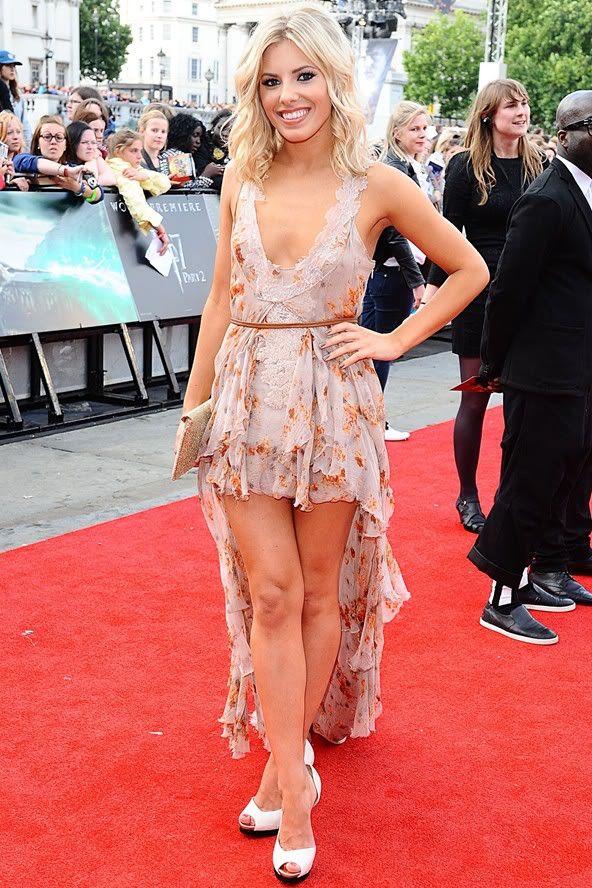 Working a hi-low hemline before most of us got in on the act, Mollie looks beautiful at the Harry Potter premiere. The ethereal, floaty dress is simply stunning on her and is perfectly complemented by white heels and her gorgeous tumbling waves and natural makeup.
A slightly more casual evening look, I love the polka dot body-con dress because the sleeves and high neckline are perfectly balanced by the shorter hemline that shows off her enviable legs. The matchy-matchy tan accessories are perfect with her navy dress.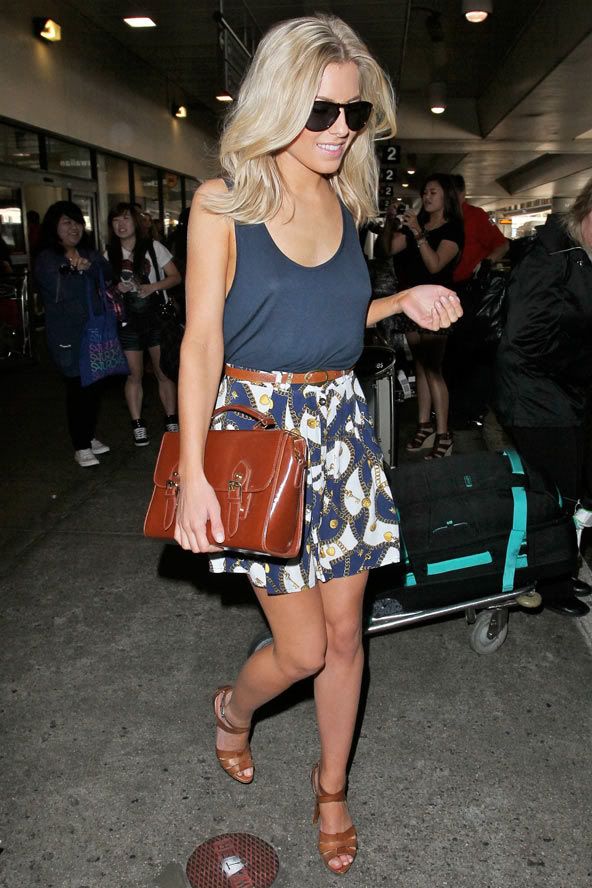 Now we are really hitting the more casual looks as Mollie walks through an airport working that killer combination of tan and navy. That gorgeous scarf-print skirt is perfect for summer and really makes her stand out in the crowd, while still being comfortable and casual enough for travel.
Here's Mollie with a masterclass in how to work double denim - simply choose a light wash jacket and shorts, then team with a contrasting floaty top, messy updo, sandals and a luxe handbag.
Chic tailoring at its best here I think. I love the clean lines of this outfit and the neutral-yet-contrasting hues of navy, beige and white that are perfectly offset by some super-luxe accessories. I am incredibly jealous of her bag collection.
Tailoring seems to be one of Mollie's specialities. These gorgeous blue shorts could easily have been smartened up with a blazer for evening, but I love how she has toned them down with a cute white top, polka dot scarf belt and oversized sunglasses.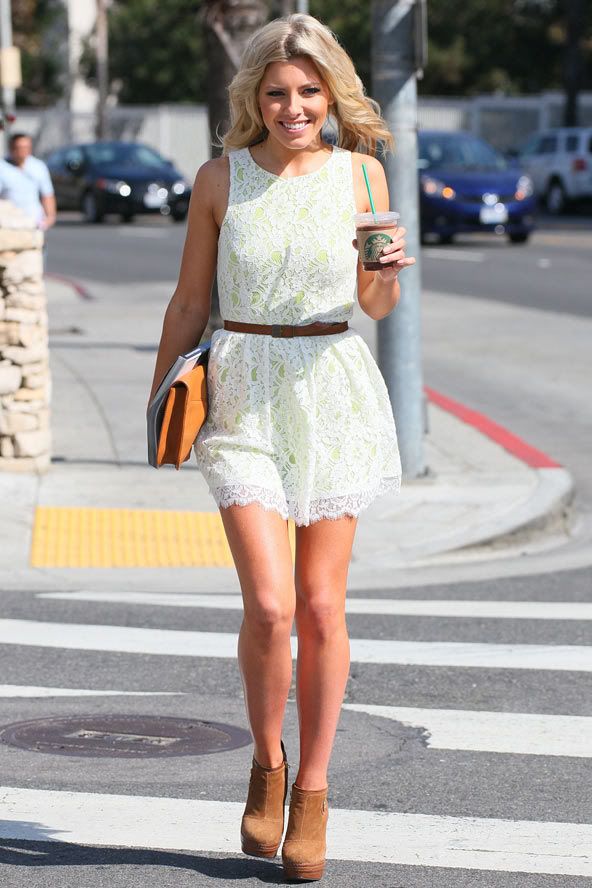 I promise I am not just in love with this look because I have the exact same dress in pink.. It helps though. The lace overlay is gorgeous and so Valentino, and again those tan accessories make it perfect for day but with a luxe edge.
Breaking out some gorgeous tailoring again on an outing with Frankie, but this time working a shorts suit in powder-pink. I have always been dubious about matching shorts suits, but Mollie does look gorgeous and sweet in this one, especially thanks to the pastel hue. I like how she has kept the look light with a white scallop-edged vest and blush-pink heels.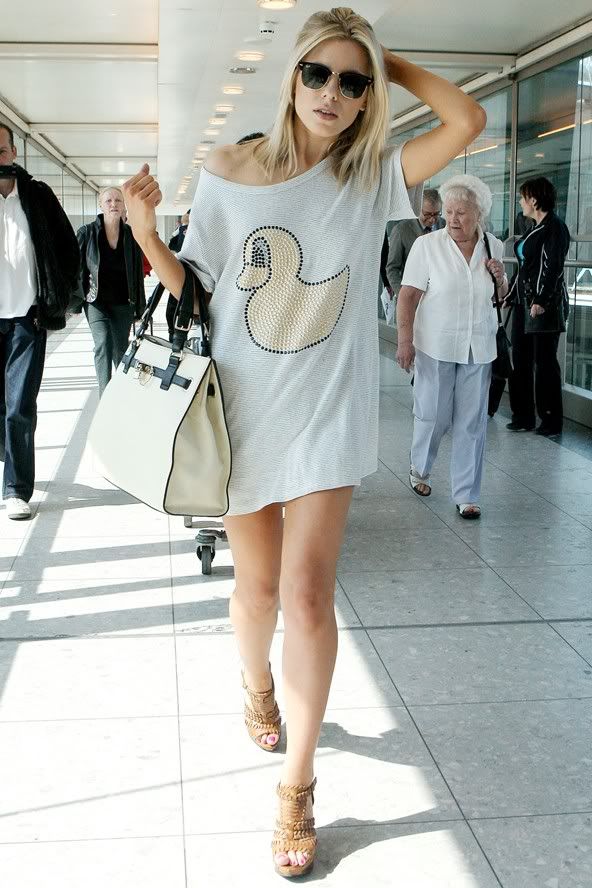 Another airport look, but not one that I am sure I would be brave enough to replicate, however much I love it! This grey t-shirt dress is gorgeous and super-cute with that rubber duck motif, and I love how it has been styled up with fierce heels, a luxe bag and uber-cool sunglasses.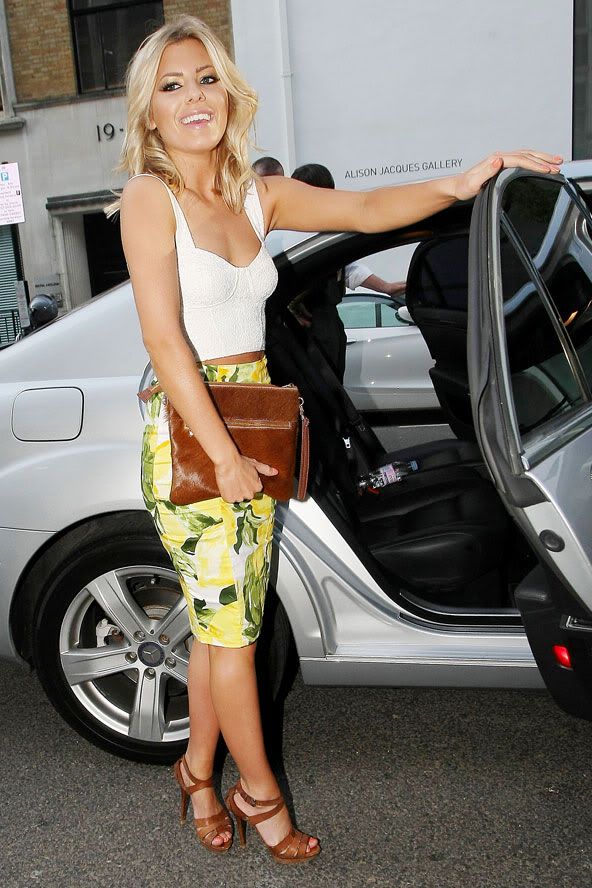 Finally, this is the look that reminded me of Mollie's stunning style. I simply adore the 1950s trend this season, and I have been wanting to try a bralet with a pencil skirt for quite some time - this look has inspired me to go for it! I love the sweet white bralet with the brightly printed skirt, and again those gorgeous tan accessories and beautiful blonde locks.
I love Mollie's style and am hopefully going to emulate some of her daytime looks, especially in that she always looks very "done" and polished - definitely not a lazy-day-in-trackies girl! What do you think of her style?
Love and kisses, Tara xox