Constantly reading fashion magazines full of expensive things was bound to get to me one day, so today I compiled a list of the things I would buy if I had limitless money (or a very rich boyfriend). I don't even want to add up this imaginary spending spree..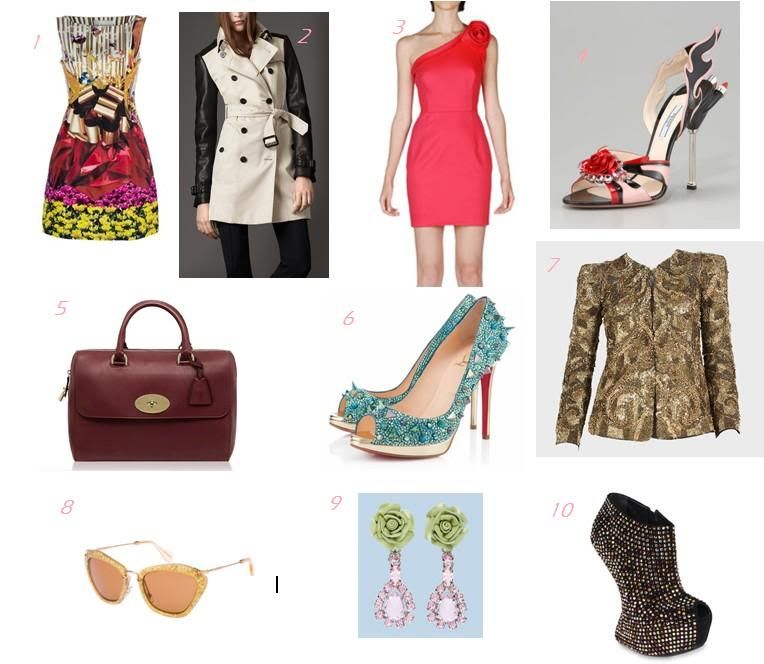 1. Mary Katrantzou print dress.
2. Burberry trench coat.
3. Valentino Pre Fall/Winter 2012 asymmetric dress.
4. Prada flame shoes.
5. Mulberry Del Rey bag.
6. Christian Louboutin spike embellished heels.
7. Balmain gold embellished jacket.
8. Miu Miu gold 40s style sunglasses.
9. Prada earrings.
10. Guiseppe Zanotti heel-less heels.
The cost of this lot doesn't bear thinking about.. However they would all add in to one killer wardrobe! Maybe one day I will be rich/famous/important enough to be able to justify buying these sorts of beautiful things but for now a girl can dream..
What would you go and buy if you could spend any ridiculous amount of money?
Love and kisses, Tara xox