Completely going back on my statement that I wasn't being super-patriotic, here comes the rundown of the best looks and fiercest style statements from last night's Diamond Jubilee Concert. I don't know when I became such a royalist, but last night I found myself settling down in front of the television with a vodka and coke to watch the acts perform to celebrate 60 years of Queen Elizabeth II as our monarch. Naturally, before long I was critiquing the costumes, groaning at the comedian's "jokes" and imagining what the queen was actually thinking of this. All in all it was a good night, lots of classic British artists from every decade of her reign and some epic fireworks. Prince Charles gave a speech and was probably the wittiest man on stage all evening..
First up is Jessie J in a dress fit for a Rio carnival. I love the glitz and glamour of this, it is the perfect statement for a stage costume, and the black booties and slick updo are the perfect complements.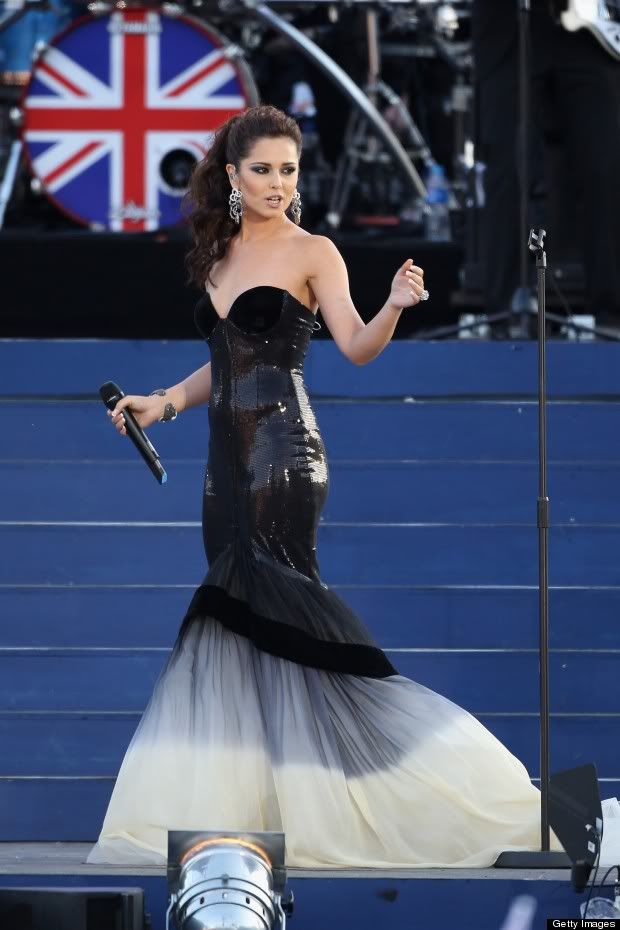 I may not be a huge fan of Cheryl, but I have a lot of love and appreciation for this dress! The silhouette is striking and feminine, and I adore the sequins, but the real showstopper is that ombre fishtail. Gorgeous.
The legendary Grace Jones went a little more unconventional in this PVC body with a flowing train and unusual headwear. Only Grace or Gaga could have pulled this off, and I don't know whether to be more impressed with her singing, how good she looks for her age, or the fact she hula-hooped for the entire performance.
An angelic Annie Lennox belted out There Must Be An Angel and wowed the crowds with her powerful voice. Personally I love her ensemble from the sparkling maxi dress to the metallic elbow-gloves and those plush angel wings.
In an outfit inspired by the Pearly Kings and Queens of London, Kylie performed a medley of hits. I love how she has made a clever reference while still looking her Showgirl self, and those boots are to die for.
I couldn't do this post without mentioning Elton John in his pink sequinned blazer with matching glasses - he's such a diva.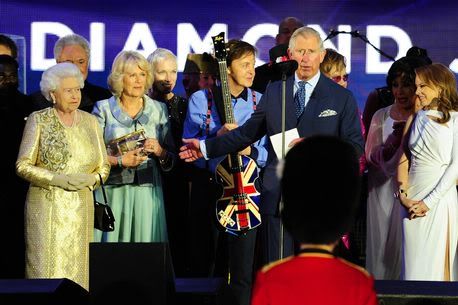 Finally, here is the gorgeous dress Her Majesty chose to wear last night - it is stunning. The gold, embellished gown makes her look even more regal, but has a slightly party-ish edge. Well played ma'am. You will also see that Kylie changed into a beautiful white, almost Grecian dress that makes her look Goddess-like, and this was because later on she was to help the Queen with her meet-and-greet.
This was a brilliant night, and a lovely celebration of the Queen's 60 years through music. Finally, Happy Diamond Jubilee to Her Majesty, and hopefully she still has many long and happy years ahead of her.
Love and kisses, Tara xox