I had been excited for my trip to Paris for ages - I went with two of my besties and it was the best end-of-exams celebration I could have asked for! Day one didn't consist of very much time in Paris itself since our flight didn't land until 6pm local time, but it was still pretty good. Most of the day was spent in England packing and then in the airport drinking coffees, before being up in the air for a ridiculously short time and then touching down in the evening.
When we were finally in Paris we navigated the trains successfully & found the hotel, only to be moved to another hotel since they were "full". I suspect some easyjet style overbooking had gone on.. Anyway, the evening picked up when we started to explore, discovering first a Carrefour in which to stock up on BNs and insanely cheap wine, then a bar to drink wine and limoncello in. We did get a little lost afterwards though, wandering through a slightly dodgy district of Paris - we had to get the metro back again to find our hotel!
Here is my outfit of the day...
Shirt, Ring & Cuff - H&M; Skirt - River Island; Bag, Shoes & Cross Bracelets - Topshop; Necklace - New Look.
I love the bright summery feel of this look, especially the pop of neon colours in the shirt. I always say that I dress a little OTT for my quiet corner of England, but heading into France really made me see how much of a Brit girl I am - their style is so classic, chic, simple and elegant, whereas I am all about the brights! Oh, and that suitcase next to me was my carry on bag.. travelling light doesn't really work for me.
Here are some snaps from the first day..
Packing.
Claire & Alison on the train into Paris.




Close up of Alison's cute braid - how SS12!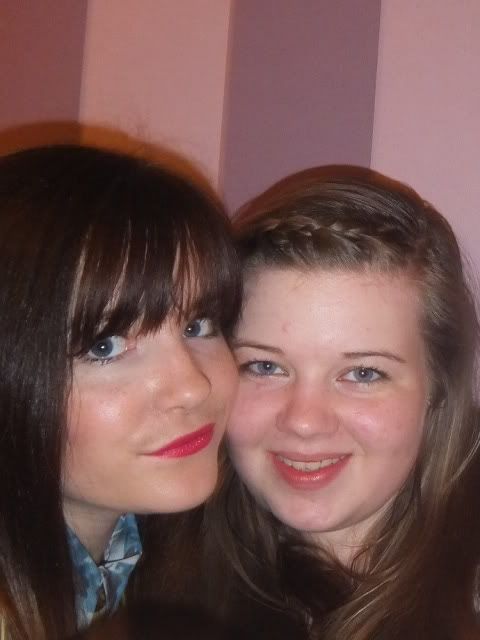 Alison & I before going out.
Day Two is coming up next, so until then..
Love and kisses, Tara xox