Just a short flight (comparatively) from Jakarta is Makassar, a city on the island of Sulawesi. It is the main gateway to this island since it actually has an airport that is up and running. Although it is still fairly westernised with plenty of little minimarket type shops and a Dunkin' Donuts, we noticed a distinct lack of other foreigners..
On Day 1 in Makassar we flew in, arriving late in the afternoon with just enough time to check out the old Dutch Fort Rotterdam before watching sunset. The only downside to picking the best and most popular sunset-watching location was that everyone else there seemed more interested by the tourists - we even got filmed by an Indonesian TV station.
Dress & Earrings - Forever 21; Shoes, Bag & Bracelet - Primark.
Taking in the gorgeous blue sky and crumbling fort, I decided to have a mini shoot and pose a bit.. I adored this dress because the bright colour is holiday perfect and the embellishment adds tribal interest. By this point holiday hair was kicking in, so I threw it into a simple side plait. While I was posing there were a few people watching, but apparently the word "model" was thrown around in their conversation, so I am going to take the positives. Oh, if only I were a foot taller!
Inside the fort.
Sunset - I've seen better.
On Day Two in Makassar we struggled with dubious local transport to an older part of the town, before doing it in reverse and dawdling around.. We watched sunset again, after helping an awful lot of school kids out with English projects.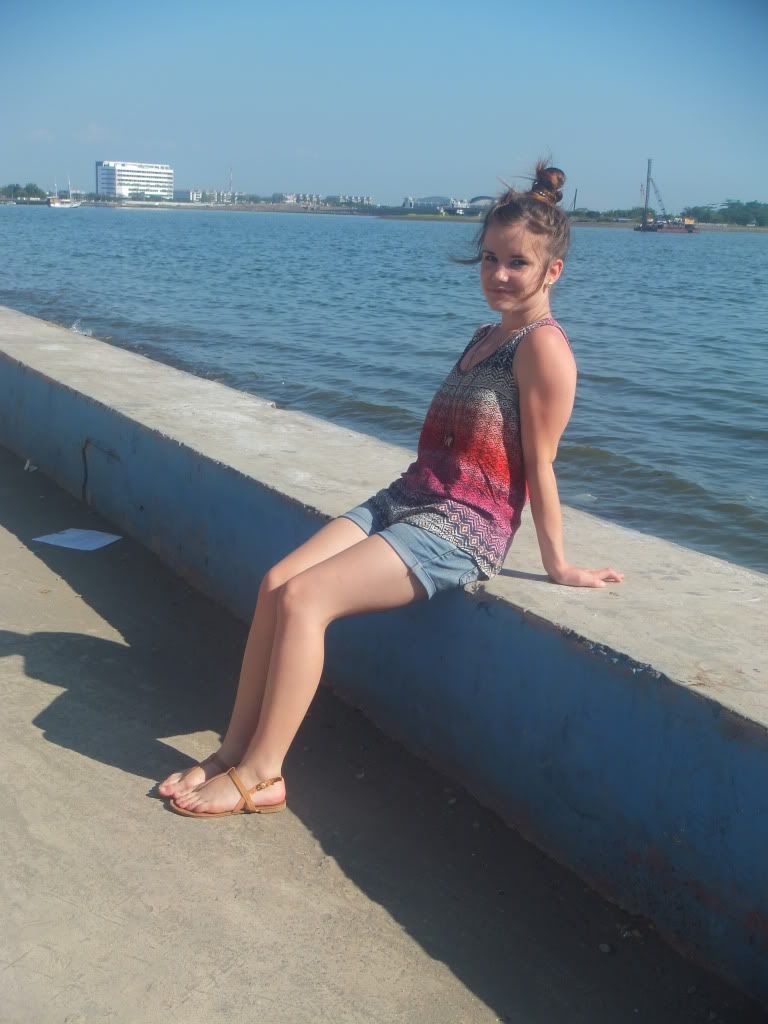 Top - New Look; Shorts - Blue Miss; Bag & Shoes - Primark; Necklace - Accessorize; Heart Earring - River Island; Ear Cuff - H&M.
This set of photos was taken while we wandered along the seafront, and my posing attracted a fair bit of attention... I opted for denim shorts and a bright tribal vest, accessorized with bright blue eyeliner and an ear cuff to add a playful edge. My hair was just shoved up into a messy bun to complete the not-totally-practical look. The Muslim acceptance of shorts is limited, and that top gave me some severe tan lines..
Some of the many school kids we helped.
In a Muslim cemetery.
Take me to my third world Alice in Wonderland..
Shipwreck.
Love and kisses, Tara xox